Your basement can bring you a lot of enjoyment! Turn it into a home theater, a play area, a guest apartment, an office, a gym, or a custom combination of these! Here's a basement reno basics primer to get you started:
Obtain a permit
People often refinish their basements without building permits, but it's best to go the above-board route, If you get caught (because of delivery or pickup trucks or a dumpster, perhaps), you can be made to redo the project from scratch. Potential buyers of your house will be looking for a certificate of occupancy for the project. Plus, your building inspector is an expert paid to scrutinize your work, delivering you with a standard of technical supervision you wouldn't otherwise have.
Make more headroom
Many building codes call for seven or more feet of ceiling clearance. If you don't have that height, you may be able to dig out and lower the concrete floor, but it's a tricky and expensive job. Ask your contractor if moving ducts and pipes might solve the problem.
Test away
Use an awl to probe for insect damage and rot in joists. Check floor joists above by climbing a ladder to see if there is any sagging. Make sure you won't have a problem with carbon monoxide buildup by having a professional check your home's fuel-burning equipment and ventilation system  Test for moisture by taping one or two feet squares of sheet plastic to the floor and walls. If condensation forms underneath the plastic over a period of  a couple of weeks, your foundation's not properly sealed. If water drops form on top, your basement needs dehumidifying.
Keep it dry
Moisture that commonly lurks in most basements can lead to mold and rot. Solutions include: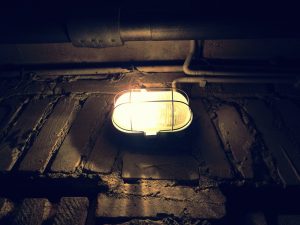 Repairing gutters

        

Installing diverters to send gutter water away from the foundation

        

Sloping soil away from the foundation

        

Sealing small cracks or gaps around pipes with concrete-patching compound

        

Filling larger cracks with hydraulic cement, which expands as it cures

        

Having a structural engineer inspect any cracks that are wider than a pencil

        

Putting in a sump pump

        

Installing heavy-gauge plastic sheeting before finishing walls and floors
Keep it quiet
Soundproofing your basement is key to enjoying your basement without suffering any unwanted noise upstairs. Build in noise control by insulating the ceiling above the basement using stone wool or fiberglass insulation. Acoustic tiles can also help, as can attachment clips containing neoprene rubber gaskets to be used with drywall.
Insulate pipes
Put foam insulation over hot-water pipes to prevent heat loss and over cold-water pipes to prevent condensation .
Leave space
Make sure you build in two or three feet of clearance around your furnace and water heater for upkeep.
Have any questions about basement renovations? Contact us!