If your family is expanding, you may find yourself running out of living space.  If you have an unfinished basement, however, renovating it into a basement bedroom is a fantastic way to utilize the space you already have to solve your problems!  Durham Basements is proud to offer the Greater Toronto Area with the best basement bedroom renovation, remodeling and finishing services around!
An additional bedroom in the basement will increase the value of your home, and appeal to potential buyers when it comes to sell – it's turning unutilized space into a functional part of your home.  It's also a great space for tweens and teens who are beginning to desire more independence – it gives them a sense of separation while still being under their parents' supervision.  A basement bedroom makes for a great study area or just hang-out spot, as well.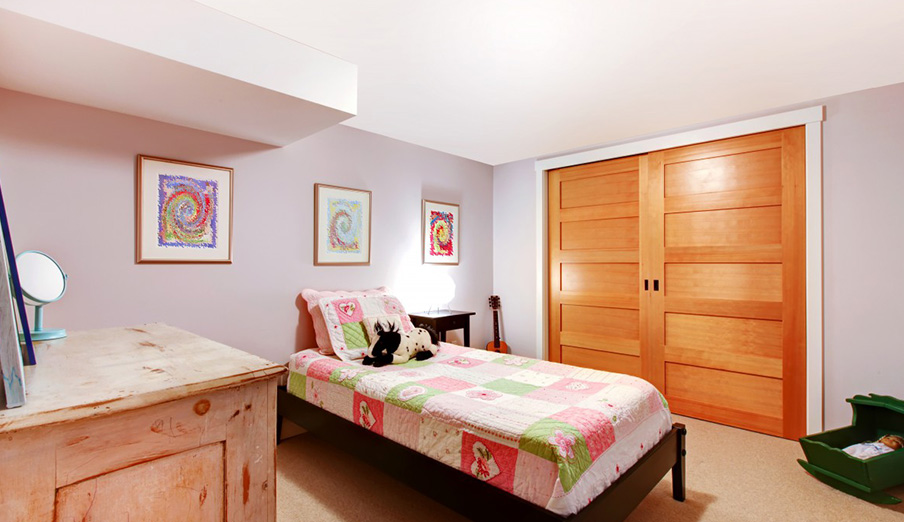 If you regularly have overnight or long-term guests, a basement bedroom provides a private place for them to stay.  No matter how much you enjoy the company of friends and family, extended visits can put a strain on your relationships.  Having an attractive and functional guest room means no one is displaced, privacy is maintained, and long visits become much more enjoyable for everyone involved.
As your needs change, a finished basement bedroom can change along with it.  Closets and built-in storage features can be used for storage.  A downstairs bathroom can be convenient for guest use or in a crowded homes.  It can serve as a rec room or guest room, or simply a private place to get away from it all.  The possibilities are nearly endless.
Adam and Gill Lowenberg and our crew have over 70 combined years of experience in renovations and basement work.  Durham Basements is a fully insured, licensed and accredited business, devoted to ensuring that you get precisely the basement you want, and nothing you don't want.
Since 2004, we've been committed to providing the Greater Toronto Area with the greatest basement renovation service possible at the most competitive prices.  Contact us today, and learn what we can do for you!