Homeowners throughout the Greater Toronto Area are looking to expand the usable space in their homes.  If you're sitting on an unfinished basement, you're wasting potential space!  Basements are a great alternative to a home addition, but the flooring requires special care; as they are below-ground environments, you want to ensure that your basement's flooring can handle everything nature throws at it.  The experts at Durham Basements will make sure your basement flooring is perfect for whatever purpose you have in mind.
Basements can be damp, humid and dusty – natural side-effects of being underground.  You'll want a floor that can stand up to moisture, and that usually means bypassing organic materials like carpet or wood.  They'll eventually grow mold, mildew and rot, especially if your basement ever floods.  Durham Basements uses high-quality flooring systems specially designed to withstand basement moisture and leaks, ensuring high performance for years to come.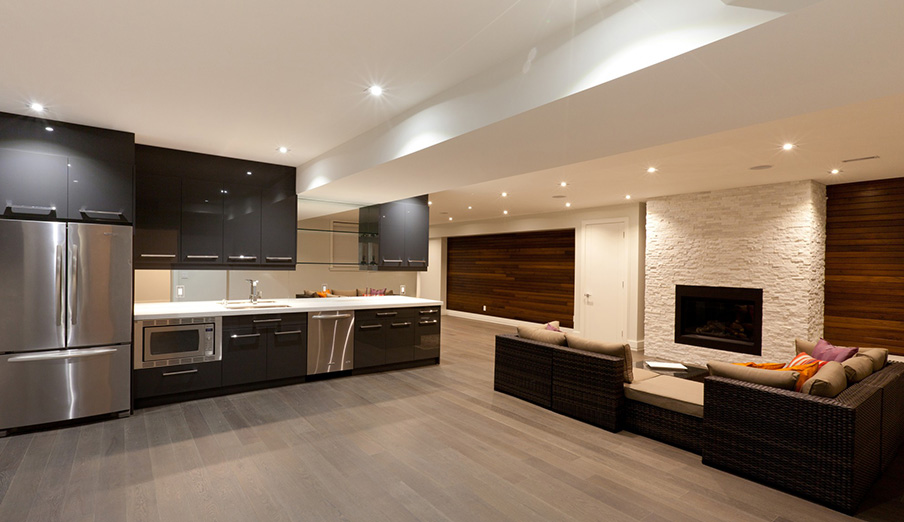 Flooring is a key part of any basement renovation, and Durham Basements is your most trusted basement renovation company in town.  With over 70 years of combined experience, Adam and Gil Lowenberg and their crew are the basement flooring experts.  We're fully insured, licensed and accredited, and are dedicated to ensuring you get the best-quality work at the most affordable prices.
What matters to us is the highest-quality results.  We make sure every last detail is done correctly, ensuring you the best basement possible.  We'll use all of our years of experience to make sure that you are always satisfied with all the work we perform.
The type of flooring you choose will ultimately depend on how you're planning to use your space.  We'll work with you, helping you pick the surface that's right for your needs.  We want to make your dream basement a reality, and will strive to provide the best flooring possible within your budgetary constraints.
Since 2004, we've been committed to providing the Greater Toronto Area with the greatest basement flooring services possible at the most competitive prices.  Contact us today, and learn what we can do for you!