So, you finally landed your dream job. You started working from home which is a goal you have had for years. But, you have a small problem, where are you going to work? You only have one option for your workspace: your basement. It needs some immediate sprucing up and revamping before you can start working there. This blog post gives you three ideas to change your basement to your inspirational work space.
Number 1: Add Some Color
Color is one of the easiest ways to change your space without hurting your bank account. Try painting your walls into a fun, vibrant color that brings life to your basement. It's important to keep in mind that certain colors emit certain moods. Make sure you truly love the color and the mood it gives you while you are working.  Also, add some artwork with different textures and colors to your walls. The artwork should inspire you and add an element of creativity to your workspace. Personalizing your basement with your favorite colors and textures will keep you motivated and excited to work!
Number 2:: Plants are our Friends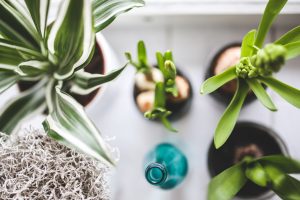 Adding greenery to your space will actually improve your focus and change the air quality in your basement. Whether it's a house plant, succulent or even flowers having an element of nature where you are working changes the quality of your work. Find a low maintenance plant that suits your style from your local nursery or greenhouse. Then, put the plants in various containers to add color (as mentioned above) and variety to your basement. Finally, the most important step that we all tend to forget please try to keep your plant watered and maintained. Plants are vital part of decor that need some maintenance and upkeep but, are worth the time and effort!
Number 3: Furniture is Key
Considering you are going to be working many hours a week on your desk and chair, choose wisely. You want to ensure that your furniture matches the decor of the look you are going for. It doesn't have to be expensive just a comfortable set up. An important tip to remember is to make sure the furniture you choose is ergonomically made to prevent future injuries or muscle strains.
These three simple and cost-effective ideas should help you transition your basement workspace to a creative space.