When you need to add more room to your home, many people start thinking up, about attic conversions, or possibly even extensions. You should try thinking down. The basement is one of the most underused spaces in the average home, but doesn't need to be! Check out some of these great ideas for remodeling your basement from a space that does nothing to a space that adds value to your home, and provides enjoyment for years to come.
Home Cinema
 Transform your basement into a wonderful home cinema! Once properly renovated, all you need to do is install a large television, DVD player, speaker system, and add roomy comfortable sofas. Decorate in fun colors and hang some framed movie posters on the walls. For a finishing touch, add a popcorn machine and a mini fridge for drinks.
Game Room
 A basement can make a perfect family game room. Splurge on an air hockey table, a foosball table, or a pool table, along with whatever other games your family enjoys. You can add shelves to store board games and accessories for easy organization and quick access. To go all out, try finding a pinball machine or arcade games from a second-hand store to truly make your basement the happening hangout spot of your neighborhood. If your plan is to turn your basement into a game room, then the only limit is your imagination and your budget.
Home Spa
 Think of how amazing it would be to not even have to leave the comfort of your home for an afternoon of relaxation and rejuvenation. Basements make wonderful personal spa and beauty areas. Installing a sauna, steam room, jacuzzi or whirlpool tub with a shower area will transform your basement into a place of pure enjoyment. For an added benefit and convenience, add personal gym and exercise equipment.
Wine Cellar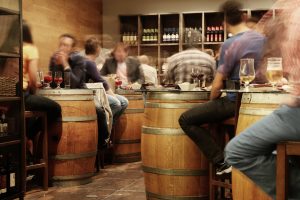 Make all your wine lover dreams come true and turn your basement into your own private wine cellar! It can be as elaborate as you wish, from a tasting room, step stools, and a decorative wooden wine cellar door. Careful consideration does need to be taken for your cooling and insulation system so that a certain temperature and humidity level can be maintained to preserve the quality of your wine. Not only will a wine cellar be a special room in your home but it will also add value.
There are so many options that you could do with your basement, but there are some things that you should keep in mind before you begin to remodel and decorate. Lighting, plumbing, drainage and weatherproofing all need to be considered before a professional design is created. Let us help you realize what options you have for turning your basement into a room you won't be able to wait to spend quality time in.